Livingston County, IL
Est. 1837
This site is currently up for adoption!

For more information: ILGenWeb Project Adoption Information

To adopt this county please fill out our contact form and the State Coordinator will contact you about it.
Our thanks to Annette Liptak for her many, many years of dedication to Livingston County genealogy and ILGenWeb as a project.
History of the ILGenWeb and USGenWeb Project
In March and April, 1996, a group of genealogists organized the Kentucky Comprehensive Genealogy Database Project. The idea was to provide a single entry point for all counties in Kentucky, where collected databases would be stored. In addition, the databases would be indexed and cross-linked, so that even if an individual were found in more than one county, they could be located in the index. In June, as the Kentucky Project was coming to completion, it was decided to create pages for all states. Volunteers were found who were willing to coordinate the collection of county pages for each state page. It is our pleasure to try to serve the interests of people searching Livingston County.
History of Livingston County, IL
It was in the early part of 1837 that Livingston County was organized. The tenth General Assembly, with Lincoln, Douglas and other notable members were in session. Illinois and the rest of the settled West were at that period fulfilling the ideals and hopes of Jefferson and Jackson for a country peopled by self-reliant farmers and small merchants. It was in that atmosphere of confidence and enterprise that the region of the present Livingston County was settled, with about 450 inhabitants. At one time Livingston County was the greatest corn producing county in Illinois. Pontiac is the county seat of the county.
This page last updated Thursday, 20-Sep-2018 15:40:18 EDT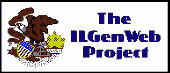 ILGenWeb isn't an ordinary genealogy website. Ordinary websites are those where text and sometimes pretty pictures are present, but trying to get in touch with a real person to help you with your research… impossible. The strength of ILGenWeb is its many volunteers, some of whom have spent over a decade assisting others with their Illinois research.

USGenWeb is a group of volunteers working together to provide free genealogy websites for genealogical research in every county and every state of the United States. This Project is non-commercial and fully committed to free genealogy access for everyone.